Tournalaid Home Preservation Plan
We are publicly petitioning Komatsu Mining Corp. (Joy Global Longview Operations llc) to immediately cease from demolition or taking any adverse action against the two Tournalaid homes located on their properties on Macarthur street in Longview, Tx.
We are also asking for Komatsu to participate in the following plan of action, with help from many other community resources:
Step 1: Asbestos Remediation
We know that there is a chance asbestos is present in the homes, and we are fully committed to its safe removal before any other work is undertaken.
📣
We are looking for a local asbestos remediation company to support this project! Is that you?
Contact us
Step 2: Prepare for Transport
This will involve removal of the existing floor structure and placement of rigging and crane supports around the shell of each home, so they can be lifted for transport in one piece.
📣
We are looking for local rigging and transport companies to support this project! Is that you?
Contact us
Step 3: Move the Tournalaid Homes
We have soft commitments from local companies safely and efficiently safely move the structures. We have also identified a number of nearby land options owned by both the City of Longview and Letourneau University which would be ideal for the long term placement and stewardship of the homes as architectural and cultural artifacts. These discussions are ongoing.
Step 4: Ongoing Preservation
Depending on where these structures reside, they will either be preserved "in place" meaning the interior would not be accessible to the public, or rehabilitated by a stewarding organization to be open to the public in some capacity. Ideally, these structures would be able to be studied and enjoyed by many generations to come, for their historical and architectural significance.
---
Where are the Tournalaid homes?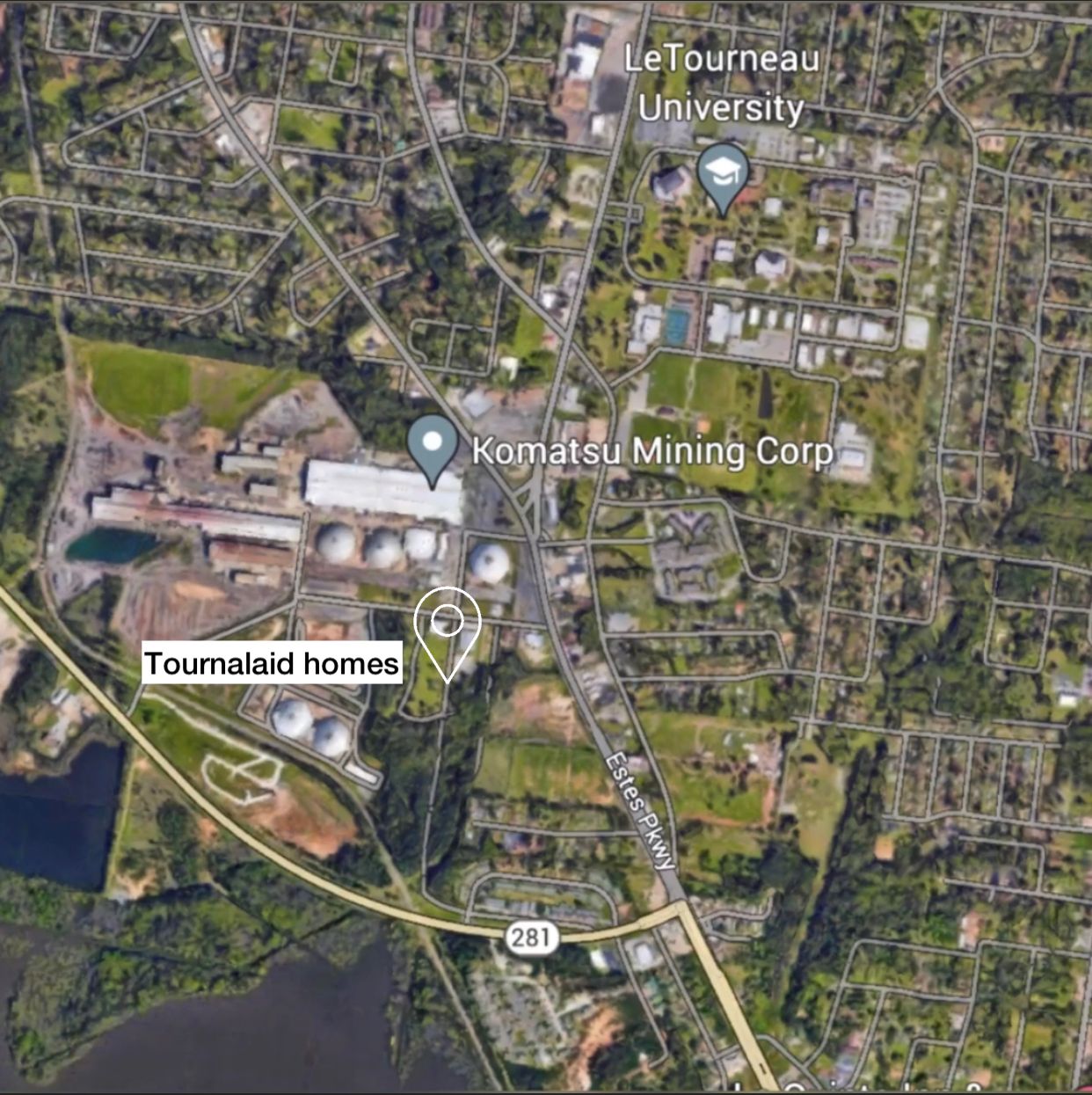 Located on land that was originally set aside for housing the workers at the original LeTourneau plant, the two houses still standing are now owned, along with all nearby property, by Joy Global, which is owned by Komatsu, Inc.
In August 2022, public hearings were held at Longview city council to consider privatizing the road system adjoining these properties, which is the final milestone Komatsu needs to achieve to begin demolishing these historic homes.