Some good news...
Tournalaid home saving updates and a cool story about the Tournalayer.

It's the hottest time of year in Texas right now. As you're reading this, the Tournalaid homes in Longview are probably baking in that hazy, choking East Texas heat; if you're reading at night, the temps are only slightly improved, most likely.
This summer marks (as best we can verify) the 77th year these houses have endured under the Texas sun. As fall begins to loom in the distance, it's looking more and more like these architectural marvels will be granted their stay of execution, and many more years of new life, thanks to your support!
Help save the Tournalaids
(and get a cool t-shirt too)
Donate Now
Earlier this summer, we were on site meeting with people and taking measurements in preparation for moving the houses to a new location. More details will be announced in progress reports in the coming weeks; here are two pieces of good news from the last few months:
The Tournalaid Homes are eligible for historic designation - With the help of Preservation Texas, we are happy to announce that the Texas Historical Commission officially recognized the significance of these buildings through what's called a "letter of determination" and we have a clear path forward to getting them listed on the national registry (even though they are being moved). Why is that important? It will allow us to seek out more sources for grant funding long term for the homes.
The Machine-Built Architecture Conservancy has put together a comprehensive plan to restore and manage the homes after they've been moved. More details on this coming very soon!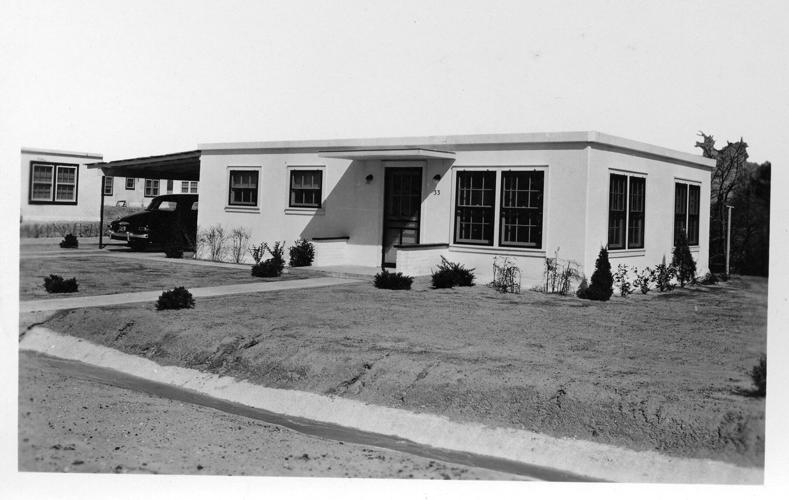 ---
A Tournalayer in Canada...
If you follow the story of these amazing concrete houses because you find the machinery used to make them interesting, this next story is for you.
If you were to drive 1,500 miles north of Longview, Texas, into a small rural community in Ontario, Canada, you'd pass a pass a small brick school building with a mural on the side...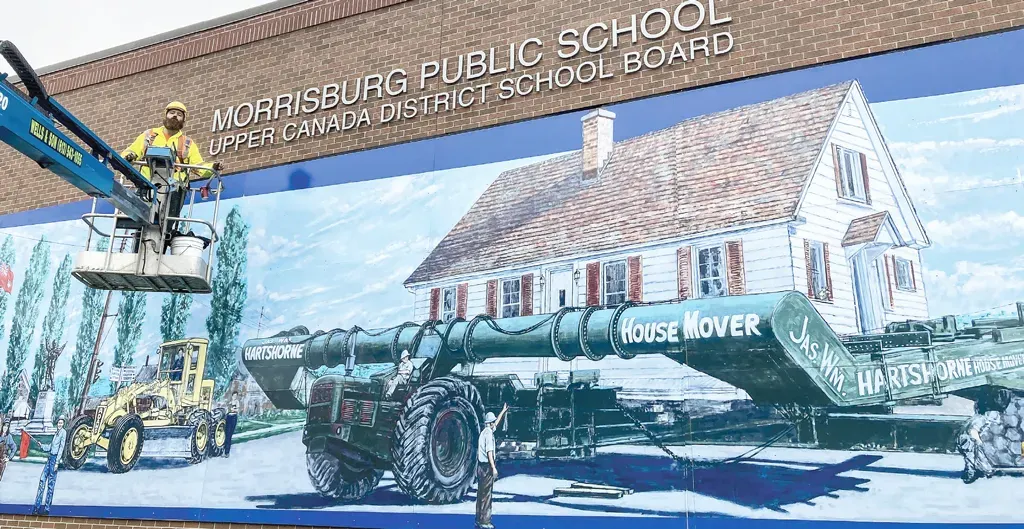 Look familiar? Yep. That's a Tournalayer machine.
Around 1951, the Canadian provincial goverment was set to get a big public works project underway; rerouting the St. Lawrence river, to create a more navigable seaway for water travel. Unfortunately, that plan included flooding an area known as Iroqouis, a small village that was home to a few hundred victorian style homes.
The town petitioned the government, which agreed to move many (over 150) of the large wood-frame houses to new locations. One of the companies that was awarded the bid to move the houses was Hartshorne House Movers, based in Moorestown, New Jersey.
It's unclear how James Hartshorne came to know about R.G. LeTourneau and his Tournalayer machines, which were busy at the time cranking out houses in California and Israel, but we know a request was made, and R.G. modified his invention to become a full-fledged moving truck.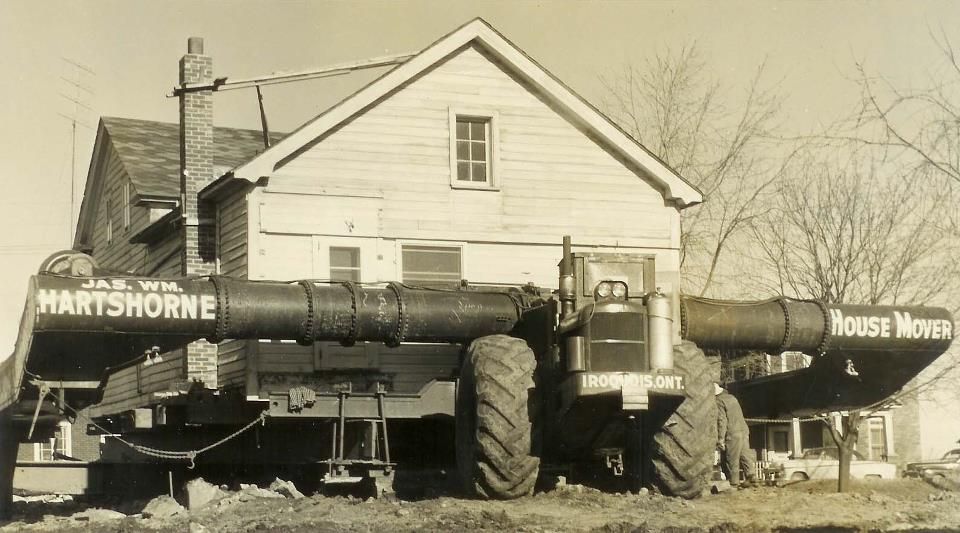 Spacers were added to extend the width and length of the machine to accomodate larger buildings (the tournalaid houses were only 24' by 32') and steel i-beams were fitted on to run under the houses and lift them off their piers.
Hartshorne purchased at least two of these modified Tournalayers, which would've been shipped by train from the Longview factory.
The houses in Iroqouis were successfully moved out of harms way in time for the river flooding. Our ongoing efforts to locate at least a partial machine continue, though we haven't been able to find one yet; if you've got any ideas, let us know!